Featured

Published on October 1st, 2023 |
by Kirsten Borrink
I was 27 when a pair of comfortable shoes for teachers changed my professional life. Recently diagnosed with rheumatoid arthritis, the pain in my feet became unbearable and so did walking the aisles checking homework, pacing while I taught lessons, and standing in the hall while the kids entered the classroom. I quickly became the un-fun teacher who wanted to sit on the job more than anything else–counter to my active teaching style.
Although I did not yet know the term "toe box," I knew I needed a shoe that didn't constrict my painful toes. I never had to worry about arch support before, but now the joints in my mid-foot were shifting due to active RA. Having absolutely no idea which kind of shoe would work for me, I walked into Nordstrom and was quickly overwhelmed by all the choices. I walked out the door into the open-air mall and saw a small shoe store called Joyce Selby.
A kind lady listened to my woes and walked me to the display of Dansko clogs. I'd never heard of Dansko. I picked out a simple black mary jane clog. She brought me my size and I strapped them on my throbbing feet. I took a few steps and knew I'd found a winner. I turned the shoe over to check the price and noticed the style name….Kirsten. My namesake shoe. I wish I had kept my Dansko Kirsten clogs as the style has been discontinued for years (the Dansko Sam is a close resemblance).
So, fellow teachers, I understand how the right pair of shoes can make or break your day. Allow me to help you find that perfect pair!
17 TOP COMFORTABLE SHOES FOR TEACHERS:
FLATS / LOAFERS: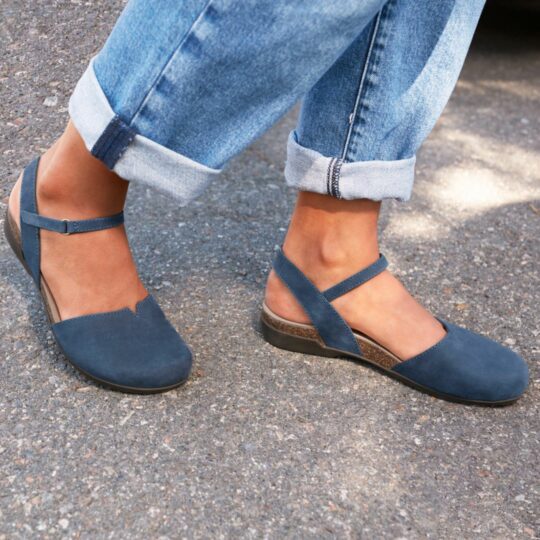 The perfect shoe for the transition to fall weather with its closed toe yet open midfoot, the Dansko Rowan earns a thumbs up from happy Zappos customers:
"I'm a teacher and am on my feet almost all day and the cork soles and arch support, along with the wider toe box make these shoes very teacher-friendly."
Find the Dansko Rowan in euro sizes 36-42 (5.5-11.5) for $129.95 from Zappos, Dansko, and Amazon.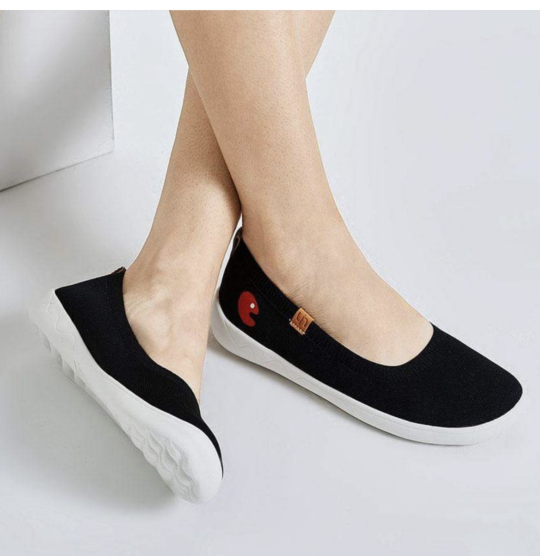 A ballet flat style with a foot-shaped toe box? We're all over that! Uin footwear hails from Spain with free shipping to the US. The removable Ortholite insole offers superior cushioning and even a little arch support! The Uin Valencia is machine-washable and comes in a variety of delightful colors and patterns. Available in sizes 4.5-10 for $95 from UinFootwear. Need a slightly bigger size? Uin's other slip-on style is available in a 10.5.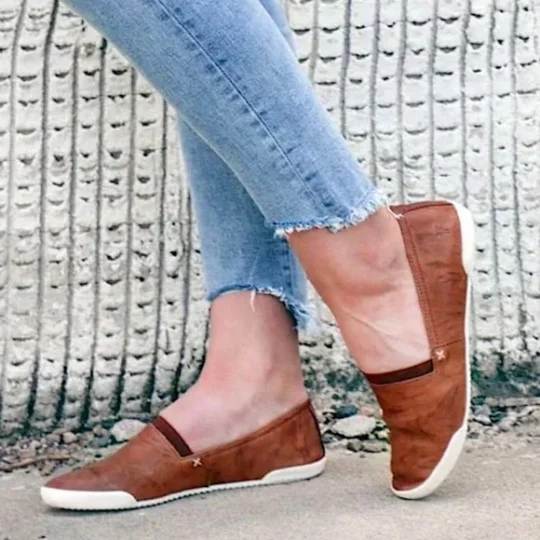 A cross between a leather flat and sneaker, the Frye Melanie is a terrific choice for the educator who isn't willing to teach all day in full-on gym shoes. Although the toe is slightly pointed, customers mention that the soft leather breaks in easily. Keep in mind these are true flats with no arch support, however the footbed is removable and should accommodate an arch insert. Find the Frye Melanie in sizes 5.5-11 for $102-148 from FryeCompany.com, Zappos and Amazon.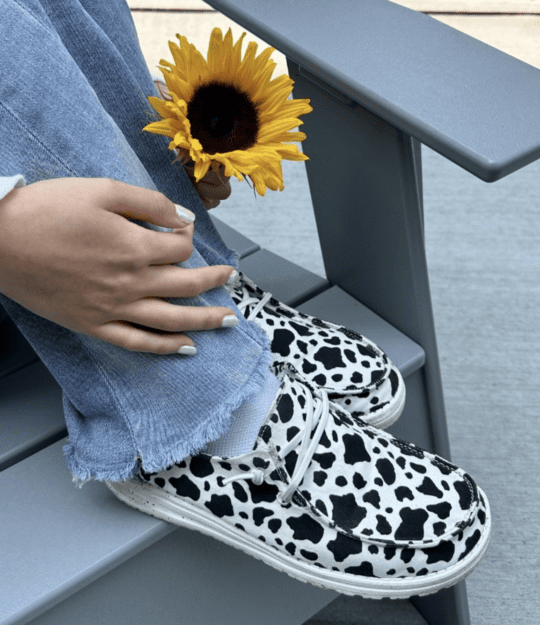 Affordable, fun and foot-friendly, Hey Dude footwear is lightweight, roomy at the toe and cushioned. The arch support is minimal though, so if that's not a dealbreaker, you'll love them. Find the Hey Dude Wendy in a variety of colors, textures and patterns for $59-69 from HeyDude.com, Zappos and Amazon.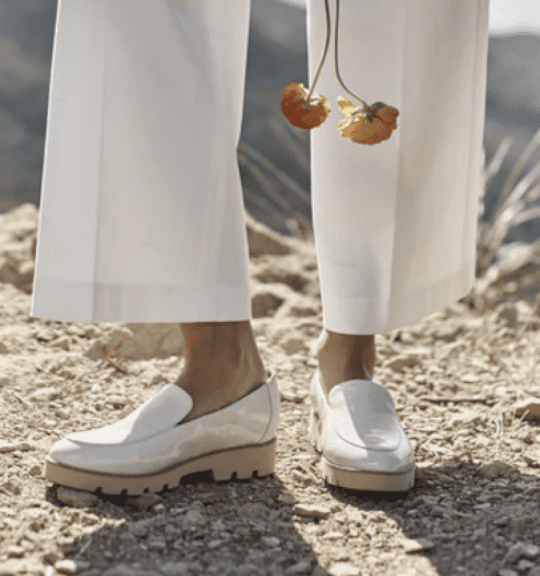 The 90s lug sole is back and we love it on the Vionic Kensley loafer. Enjoy all-day comfort with Vionic's orthotic-like insole with enhanced arch support and cushioning. Find the Kensley in sizes 5-12, medium and wide widths, for $129.95 from VionicShoes.com, Zappos and Amazon. See our post on top chunky loafers if you're a fan of this look!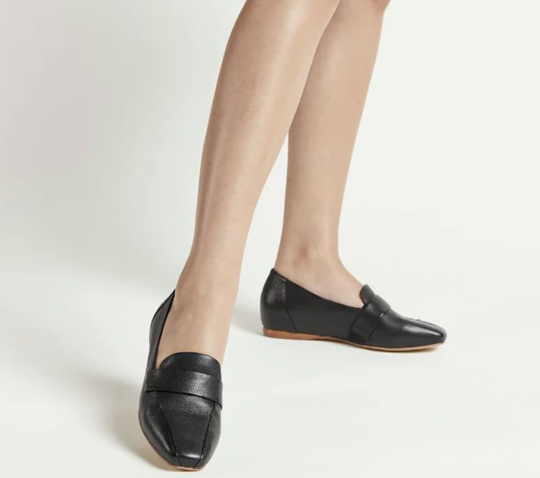 Podiatrist Caroline McCulloch founded Frankie4 footwear with the goal of designing shoes that women wanted with sleek, professional and stylish silhouettes combined with excellent hidden support. The brand has taken off! Take a look at Frankie4 educator's page of "cool for school" designs (and an exclusive offer for educators). One of our favorite styles is the Lucky loafer pictured above with its arch and forefoot support, heel cup, and four layer support and cushion system. The Lucky is available in sizes 6-13 for $185 from Frankie4.
OXFORDS/BROGUES: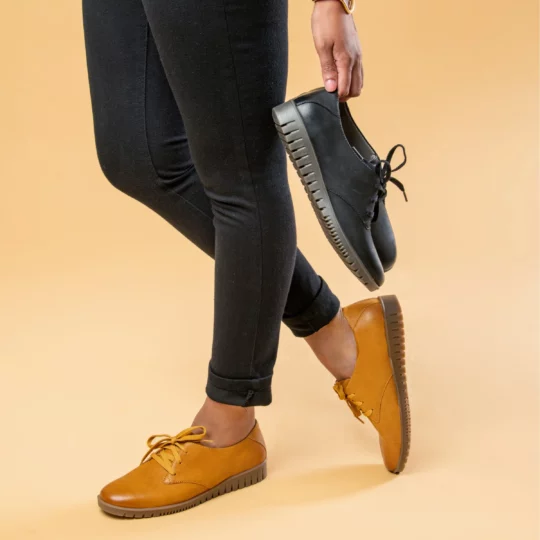 A new style for fall 2023, the Dansko Libbie features gorgeous leathers, a removable footbed with arch support and a flexible, lightweight outsole–the perfect comfortable shoes for teachers. Find the Libbie in euro sizes 36-42 (5.5-11.5) for $140 from Dansko.com, Zappos and Nordstrom.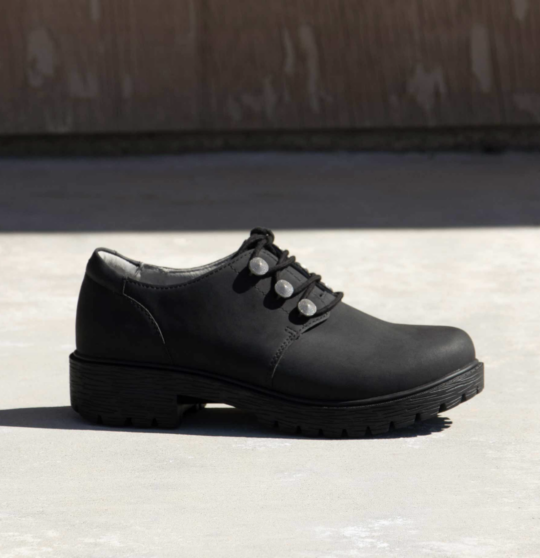 Another lug sole to love! The verified vegan Alegria Resa features a removable cork/latex/memory foam footbed with superior arch support. A slip-resistant outsole will keep you sure-footed through the day. Available in euro sizes 35-42 (5.5-11.5) with a wide option from AlegriaShoeShop.com and Zappos.
MULES/CLOGS: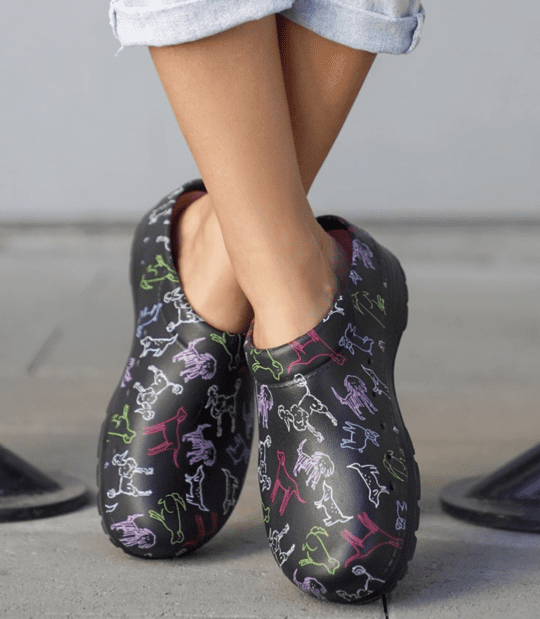 Ideal for preschool teachers, art teachers or anyone who needs an easy-to-wash shoe that offers all-day support and cushioning. The Dansko Kane is made from a bio-based EVA with all the comfort you'd find in a typical Dansko clog. Available in euro sizes 35-43 (5-12) for $85 from Dansko.com, Zappos and Amazon.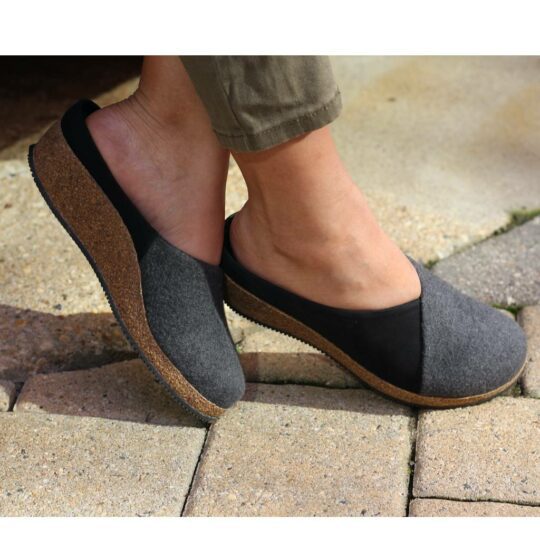 Have you experienced the cozy comfort of Stegmann clogs yet? Your feet are in for a treat. Keep a pair under your desk at school and a pair by the door at home–so easy to slip on and off and the footbed is a dream. This is what Stegmann says about their new Elsa clog:
"The stretch felt panel across the foot and toe can accommodate a variety of foot shapes from narrow to wide and won't irritate bunions. The low wedge heel helps relieve achilles tendonitis pain while the cushioned arch support insole helps with plantar fasciitis."
Available in sizes 6-11 for $145 from StegmannUSA.com.
LIFESTYLE SNEAKERS: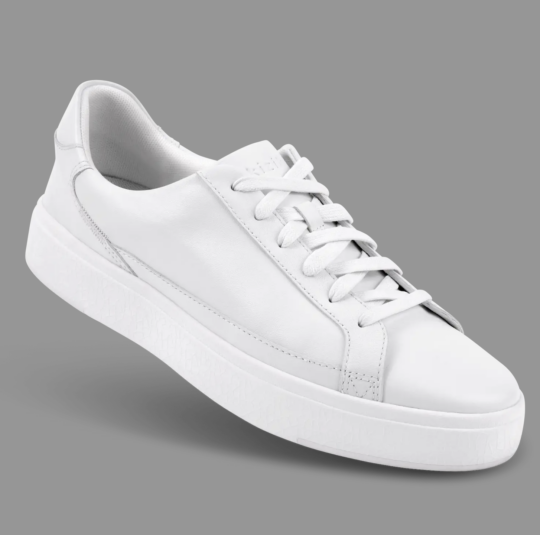 Do you wear orthotics and have a hard time finding a stylish shoe to accommodate them? Look no further, the leather Kizik Vegas is your godsend. Not only does this brand feature a hands-free heel (slip them on and go) without sacrificing ankle support, the footbed is removable allowing the use of an orthotic. Take it from Kizik customer Marcy,
"These are not only comfortable, fit my orthotics, and look awesome with every outfit! Let's see if they are durable to hold up to my 2-3 hours of daily walk."
The Kizik Vegas is available in sizes 6-13, medium and wide widths for $129 from Kizik.com. See our video review of the Kizik Athens.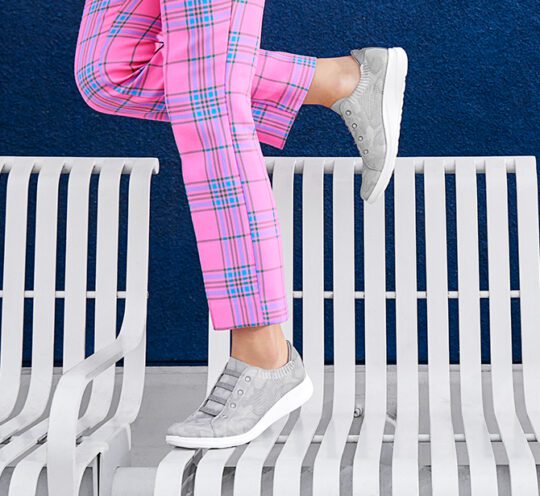 Bzees Golden Knit: Lucky you if sneakers pass dress code for teachers! The Bzees Golden Knit features a stretch knit upper and removable Free-Foam™ footbed designed to mold to your feet and offers bounce back and arch support for lasting support (and they're washable). Best for:
bunions
plantar fasciitis
wide feet
flat feet
Available in sizes 6-11, medium and wide widths for $70 from Zappos and Amazon.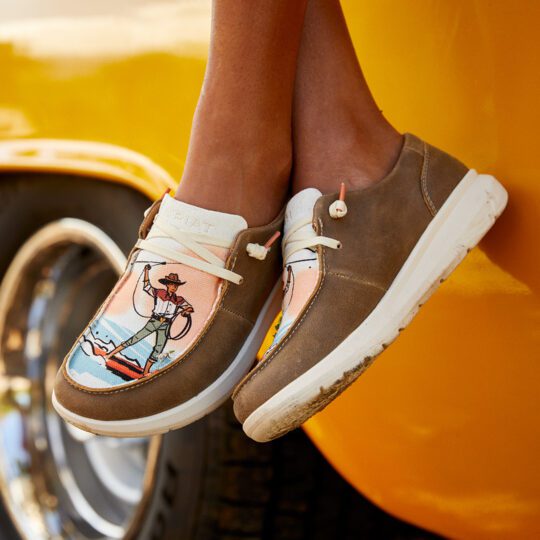 The Ariat Hilo–is it a loafer? A sneaker? Either way it's sure to bring joy not only to your feet, but everyone who sees them, including your students. As one Zappos customer states, they're "easy to slide on, but feel like they are tied." With room for toes to spread out, moderate arch support and dense cushioning, these are true workhorses with a playful attitude. Find the Ariat Hilo in over 20 colors and patterns, sizes 5.5-11 for $69-89 from Ariat.com, Zappos, and Amazon.
See our review of the Ariat Cruiser, a similarly fun shoe with a more streamlined silhouette.
Ankle Boots: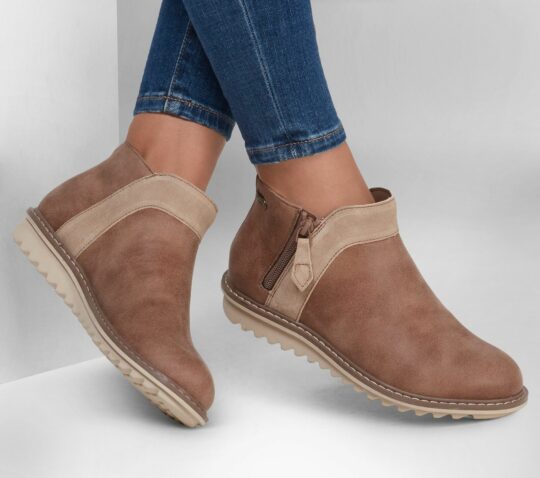 A podiatrist-designed shape and insole system makes this cute two-tone ankle boot by Skechers a win for aching feet. Plus, it's great to find a comfortable bootie under $100. Available in sizes 5-11 for $85 from Skechers.com and Amazon.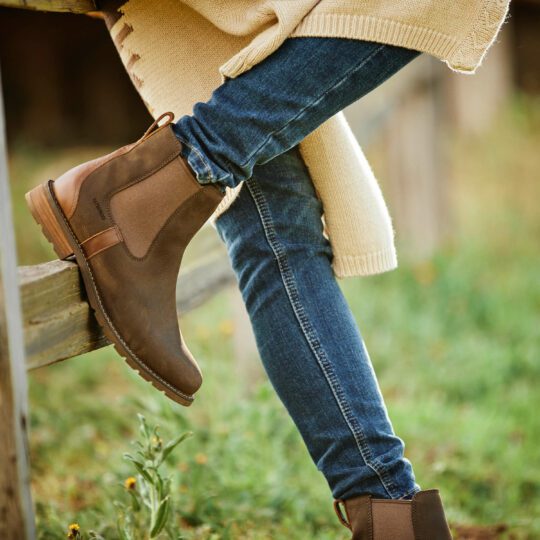 The Wexford chelsea boot by Ariat is as beautiful as it is practical. Waterproof leather uppers protect the toes from the sloshy parking lot to the after school bus duty. The Wexford boot features Ariat's Advanced Torque Stability (ATS®) technology which supports and cushions the foot, promoting good posture and reducing fatigue so that you can work or play all day. A removable footbed should accommodate a personal orthotic. Find the Ariat Wexford in sizes 5.5-11, medium and wide widths for $189.95 from Ariat.com, Zappos and Nordstrom.

































Credit : Source Post